Fusoan Miwagama
In the third year of the Kanbun era (1663), the first-generation Kyūsetsu was retained by the Hagi Mōri clan to establish Miwagama as an official kiln.
In the second year of the Tenna era (1682), the kiln moved to its present location.
Over the generations since, Miwagama has continued to produce work full of creativity and individuality.
With the Meiji Restoration, Miwagama lost the patronage of the Mōri clan.
Still, the kiln continued to operate, preserving the techniques of the Hagi tradition.
After several generations, the eighth generation head of Miwagama, Setsuzan, was presented with a work of calligraphy reading "Fusōjiryū" by Sanjō Sanetomi, who was the Dajo Daijin (Chancellor of the Realm) of the Meiji government.
The tenth generation Kyūsetsu (Kyūwa) adopted the phrase "Fusōjiryū" as the family maxim, and with over 200 years of history, a new name was bestowed on Miwagama: Fusōan.
Today, Fusōan Miwagama continues to innovate, while preserving tradition at the same time.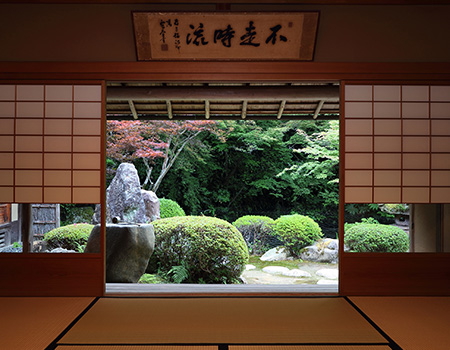 Kyūsetsu White Glaze
Kyūsetsu white glaze is a straw ash glaze developed by tenth generation Kyūsetsu (Kyūwa) and perfected by eleventh generation Kyūsetsu (Jusetsu).
The current head of Miwagama, Miwa Kazuhiko, continues to take full advantage of this beautiful glaze in creating his own unique forms.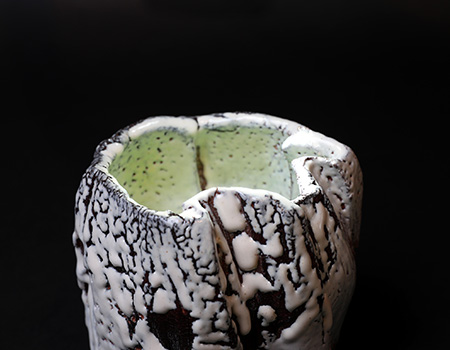 Kiln
On a slope on the east side of the property there is a noborigama climbing kiln, built in the early Meiji period.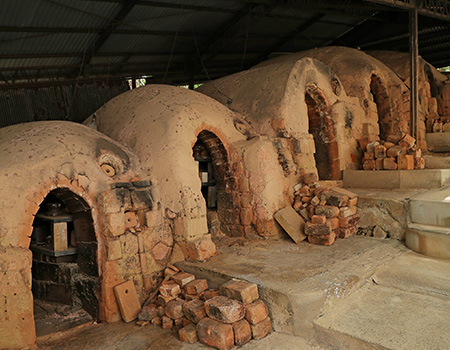 Molds
On exhibit at Miwagama are molds dating back to the first generation Kyūsetsu.
On the back of a mold for a "Leaf-Shaped Plate," there is an inscription reading "Made by Miwa Kyūsetsu, September 1688."